Posts for tag: dental implant
By Kuhn Family Dentistry
August 22, 2020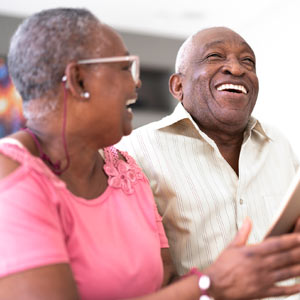 Complete tooth loss is a common condition among older adults, gradually occurring one or two teeth at a time. There often comes a point of realization, though, that all the teeth will eventually be lost.
This can create a dilemma: Do you replace teeth as they're lost, or go ahead and have all of them removed at one time?
Up until recently, the latter choice seemed the most practical and affordable. But most dentists would agree that keeping natural teeth for as long as practical is better for a person's overall oral health and to slow any potential bone loss.
The emergence of dental implants has made this less of a dilemma: We can use this technology to more affordably replace teeth in stages rather than all at once. This is because an implant is technically a root replacement: a dentist inserts a titanium metal post into the jawbone. Because of an affinity with titanium, bone cells grow and adhere to the implant surface, which creates a stronger hold. It also impedes bone loss.
We can, of course, use implants as individual tooth replacements. But the expense of this approach with multiple teeth puts it well out of reach financially for many people. But implants can also be used as connective points between the patient's jaw and other kinds of dental restorations like bridges, partial dentures, and full removable or fixed dentures.
Using this approach, we can adopt a strategy of allowing healthier teeth to remain until it's necessary to remove them. We initially place implants to support a bridge, for example; later we can use the same implants along with additional ones to support a larger restoration, even a fixed full denture.
An implant-supported restoration is typically more expensive than traditional bridges or dentures, but far less than replacing teeth with individual implants. And because the stages of restorations may occur over a long period of time, the cost can be spread out to make it more manageable.
If you're facing a future where it's likely you'll lose all your teeth, you don't have to lose them all at once. Staged restorations with implants could help you hold on to your natural teeth for as long as possible, slow bone loss and make for a healthier mouth.
If you would like more information on the wide array of dental restoration options, please contact us or schedule an appointment for a consultation. You can also learn more about this topic by reading the Dear Doctor magazine article "Replacing All Teeth But Not All at Once."
By Kuhn Family Dentistry
July 23, 2020
Nothing beats the form and function of a real tooth—but dental implants come pretty close. That's why they're tops among both dentists and patients for replacing missing teeth.
Much of an implant's functionality and durability can be credited to its material construction, from the titanium metal post imbedded in the jawbone to the lifelike porcelain crown attached at its other end. But an implant's "nuts and bolts" isn't the only reason why this premier dental restoration is so popular: A good portion of their success comes from the adjunct support provided by digital technology.
Without this varied array of computer-based applications used in planning, designing and installing them, implants couldn't produce the level of satisfactory outcomes they currently do. Here then are a few of the high-tech tools dentists use to make sure your implants result in a winning smile.
CBCT scanning. Implant placement requires a high degree of precision often complicated by various anatomical structures like nerves, blood vessels and sinuses within the gums and jaws. Cone Beam Computer Tomography (CBCT) scanners rotate around a patient's head, taking hundreds of digital x-ray images that are then assembled into a 3-D model image. Dentists can view this model from various angles to identify obstacles and better pinpoint the best implant locations.
Digital impressions. Dentists can also create a 3-D digital impression model of the inside of a patient's mouth that can give them views of their current teeth and gums from any angle. This aids in determining the size and type of implant so that it blends seamlessly with remaining teeth. A digital impression can also provide both the dentist and patient a preview appearance of their future smile after treatment.
3-D printed surgical guides. To accurately drill the implant site during surgery, dentists often create a custom-made device called a surgical guide that fits into the patient's mouth during the procedure. Using results from scanning and digital impressions, highly accurate guides can be created with a 3-D printer. This further ensures that the implant will be in the exact best location for the most attractive and functional outcome.
Implantology is as much art as it is science in achieving a beautiful smile. These and other digital tools help make that desirable end a reality.
If you would like more information on dental implants, please contact us or schedule an appointment for a consultation.
By Kuhn Family Dentistry
June 23, 2020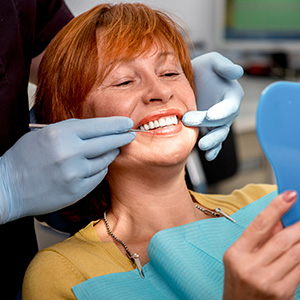 Dental implants aren't simply prosthetic teeth, but rather an innovative system that restores both smile appearance and dental function. And while an implant can indeed replace a single tooth, they can do so much more. Integrated with removable dentures or a fixed bridge, they provide a secure solution to multiple missing teeth.
Implants essentially replace a missing tooth's root, the basis for their lifelikeness and functionality. As such, they're also the most sophisticated restoration used today, requiring a high degree of technical and aesthetic skill to place them properly. In reality, implantation is more a process than a procedure.
If you're considering implants, that process begins with a comprehensive dental exam. During the exam, we'll assess the exact condition of your oral and facial structures like the length of remaining teeth, your bite and jaw dimensions. We'll use this information to plan the type and placement of your implants. The exam may also reveal problems like bone loss that might postpone your implants or suggest another form of restoration.
Using digital technology, we then locate the exact positions for your implants on the jaw to ensure the best outcome. This often results in the creation of a surgical guide, a plastic template placed over the jaw that accurately pinpoints the locations for the drilling sequence during implant surgery.
In most cases once the implants are surgically installed, gum tissue may be sutured over the implant to protect it while it integrates with the bone. In some cases, though, a visible crown may be placed immediately, so the patient can enjoy a tooth-filled smile the same day. This immediate crown, though, is temporary and will be replaced with a more durable, permanent one in a few months.
During this interim, the titanium in the implant post will attract bone cell growth, which will build up on the implant surface. This increased bone contact will help secure the implant fully in the jaw, giving the implant its signature durability.
Once the integration is complete, the permanent crown is affixed to the implant (or implants in the case of a fixed or removable dental appliance). It may have been a long road, but you'll have the closest thing to real teeth.
If you would like more information on implant restorations, please contact us or schedule an appointment for a consultation. You can also learn more about this topic by reading the Dear Doctor magazine article "New Teeth in One Day."