Posts for tag: dental implants
By Kuhn Family Dentistry
June 11, 2021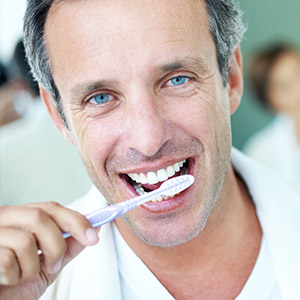 Your teeth can take decades of daily biting and chewing and not miss a beat. But they do have a nemesis, dental disease, which can easily get the upper hand. As a result, millions of people lose teeth each year to tooth decay and periodontal (gum) disease.
But while both the living tissue that makes up teeth and gums are susceptible to bacterial attack, the non-living materials in a life-like dental implant are impervious to disease. That being the case, you would think your implants wouldn't need as much hygiene as your other teeth.
But they still do. True, implants in themselves aren't affected by infection, but the bone and other tissues that support them can become diseased. This often happens with advanced cases of gum disease.
There is, in fact, a particular form of gum infection associated with implants called peri-implantitis ("peri"—around; "it is"—inflammation), which occurs in the gums around an implant. Once it starts, peri-implantitis can advance at a rapid pace.
This is because implants don't have the gum attachment of real teeth, which can fight and slow the advance of a gum infection. Because an implant doesn't have this attachment, any infection around it continues virtually unimpeded. If the bone supporting an implant becomes infected, it can weaken to the point that the implant fails.
But this dire scenario can be avoided with continuing hygiene and maintenance of the gum tissues surrounding the implant. You should brush and floss every day around implants to remove dental plaque, the bacterial film most responsible for dental disease, just as you do with natural teeth.
It's also important to keep up regular dental visits for cleanings to remove lingering plaque and tartar (hardened plaque). Your dentist may also notice and clean away any residual cement from the restoration, which can also cause gum inflammation.
And, you should promptly see your dentist if you notice any telltale signs of a gum infection, such as swelling, redness or bleeding, especially around implants. The quicker we diagnose and treat a case of gum disease, particularly peri-implantitis, the less likely it will endanger your implant.
If you would like more information on maintaining dental implant restorations, please contact us or schedule an appointment for a consultation.
By Kuhn Family Dentistry
October 22, 2018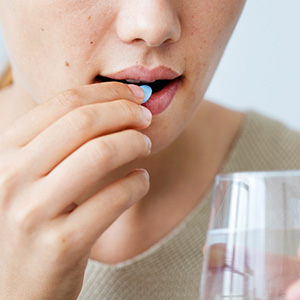 Placing a dental implant within the jawbone requires a surgical procedure. For most people it's a relatively minor affair, but for some with certain health conditions it might be otherwise. Because of their condition they might have an increased risk for a bacterial infection afterward that could interfere with the implant's integration with the bone and lead to possible failure.
To lower this risk, dentists for many years have routinely prescribed an antibiotic for patients considered at high-risk for infection to take before their implant surgery. But there's been a lively debate among health practitioners about the true necessity for this practice and whether it's worth the possible side effects that can accompany taking antibiotics.
While the practice still continues, current guidelines now recommend it for fewer health conditions. The American Dental Association (ADA) together with the American Heart Association (AHA) now recommend antibiotics only for surgical patients who have prosthetic heart valves, a history of infective endocarditis, a heart transplant or certain congenital heart conditions.
But patients with prosthetic joint replacements, who were once included in the recommendation for pre-surgical antibiotics, are no longer in that category. Even so, some orthopedic surgeons continue to recommend it for their joint replacement patients out of concern that a post-surgical infection could adversely affect their replaced joints.
But while these areas of disagreement about pre-surgical antibiotics still continue, a consensus may be emerging about a possible "sweet spot" in administering the therapy. Evidence from recent studies indicates just a small dose of antibiotics administered an hour before surgery may be sufficient to reduce the risk of infection-related implant failure with only minimal risk of side effects from the drug.
Because pre-surgical antibiotic therapy can be a complicated matter, it's best that you discuss with both the physician caring for your health condition and your dentist about whether you should undergo this option to reduce the infection risk with your own implant surgery. Still, if all the factors surrounding your health indicate it, this antibiotic therapy might help you avoid losing an implant to infection.
If you would like more information on antibiotics before implant surgery, please contact us or schedule an appointment for a consultation. You can also learn more about this topic by reading the Dear Doctor magazine article "Implants & Antibiotics: Lowering Risk of Implant Failure."
By Kuhn Family Dentistry
March 19, 2017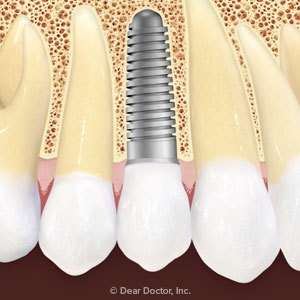 What's so special about dental implants — and why should you consider one to replace a missing tooth?
Although they've only been widely available for thirty years, dental implants have climbed to the top of tooth replacement choices as the premier restorative option. Since their debut in the 1980s, dentists have placed over 3 million implants.
There's one overriding reason for this popularity: in structure and form, dental implants are the closest replacement we have to a natural tooth. In fact, more than anything else an implant is a root replacement, the part of the tooth you don't see.
The artificial root is a titanium post surgically imbedded into the jaw bone. Later we can attach a porcelain crown to it that looks just like a visible tooth. This breakthrough design enables implants to handle the normal biting forces generated in the mouth for many years.
There's also an advantage in using titanium dental implants. Because bone cells have a special affinity to the metal, they will grow and attach to the implant over time. Not only does this strengthen the implant's hold within the jaw, the added growth also helps deter bone loss, a common problem with missing teeth.
It's this blend of strength and durability that gives implants the highest success rate for any tooth replacement option. Over 95% of implants placed attain the 10-year mark, and most will last for decades.
Dental implant treatment, however, may not be possible in every situation, particularly where significant bone loss has occurred. They're also relatively expensive, although more cost-effective than other options over the long term.
Even so, implants can play an effective and varied role in a dental restoration. While single implants with attached crowns are the most common type of replacement, they can also play a supporting role with other restorative options. As few as two strategically placed implants can provide a more secure connection for removable dentures or fixed bridges.
You'll need to first undergo a thorough dental examination to see if implants could work for you. From there, we'll be happy to discuss your options for using this "best of the best" restoration to achieve a new, beautiful smile.
If you would like more information on dental implants, please contact us or schedule an appointment for a consultation. You can also learn more about this topic by reading the Dear Doctor magazine article "Dental Implants 101."