Posts for tag: teeth whitening
By Kuhn Family Dentistry
October 12, 2018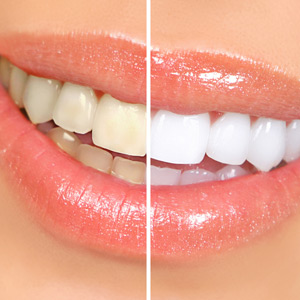 Transforming your smile doesn't necessarily require complex treatments like orthodontics, dental implants or porcelain veneers. Sometimes a little brightness can mean all the difference in the world.
Bleaching (or teeth whitening) is a proven method for dealing with tooth discoloration and staining. Nearly all whitening products, whether home or professional, contain the bleaching agent carbamide peroxide or its breakdown product hydrogen peroxide. These agents effectively diminish staining deep within a tooth (intrinsic) or on the enamel surface (extrinsic), although intrinsic staining will require a more invasive office procedure.
If you have extrinsic staining you have three basic options: dental office bleaching, a retail home kit or a kit purchased from a dentist. Again, you'll find the same basic bleaching agents in each of these versions. The difference will be the concentration: home kits contain about 10% agent by volume, while the office application will be a much higher range of 15% to 35% (which may also employ specialized lights or lasers to increase the bleaching effect). As a result, an office bleaching may take only a visit or two to achieve the desired brightness while a home kit about two or three weeks.
Whitening is a more economical route for smile enhancement of otherwise sound teeth than other measures. But there are other considerations you should weigh before undergoing a procedure. Whitening isn't a permanent fix — the brightness will diminish over time, optimally six months to a year in what dentists call the "fade rate." You can slow this process by avoiding or limiting foods and habits that cause staining.
If you have other dental work — crowns, bridgework or fillings — it may be difficult to achieve a tint level that matches these restorations, especially at home. And while whitening is relatively safe (as long as you're using your kit as directed), you may experience tooth sensitivity, gum irritation or other minor oral side effects.
Before you decide on whitening, visit us first for a complete dental examination. From there we can advise you on whether whitening is a good smile enhancement choice for you.
If you would like more information on teeth whitening, please contact us or schedule an appointment for a consultation. You can also learn more about this topic by reading the Dear Doctor magazine article "Teeth Whitening."
By Kuhn Family Dentistry
September 02, 2018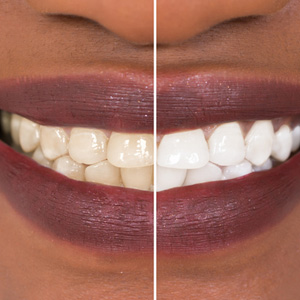 A relatively easy and inexpensive way to improve your smile is to whiten your teeth. In fact, you may even be able to do it yourself at home. Although there are differences between at-home and professional whitening, the former can still be effective.
That effectiveness, though, might be dependent on how well you understand what home whitening can do and what it can't. So before you purchase your kit, here are a few things to know about DIY teeth whitening.
Home kits are safe—when used as directed. Although nothing in life is completely risk-free, home whitening kits are relatively safe. But only if you follow the directions: If you overuse the bleaching solution beyond its intended use, you could wind up with permanent damage to your tooth enamel that can be costly to treat.
Bleaching solutions are relatively mild. Nearly all home kits use carbamide peroxide, a form of hydrogen peroxide, as their bleaching agent. Home kits usually contain no more than 10% of this agent, much lower than professional solutions. Used as directed, this amount of bleaching agent poses little to no risk to dental or general health. On the other hand, the weaker home kit solution does limit the extent of brightness you can achieve compared to stronger professional treatments.
For top results (or certain conditions), consider professional whitening. While you can obtain good results with a home whitening kit, professional whitening provides more precise brightness control and range, and may possibly last longer. That's because your dentist has more advanced techniques and equipment, as well as stronger bleaching solutions. And, if your discoloration originates inside your teeth, a home kit won't help—only a dentist can address that kind of discoloration.
Even if you decide to "go solo," your dentist can still give you advice on what to look for in a home kit, as well as tips for the actual procedure. But whether you whiten at home or let your dentist do it, teeth whitening can take years off your smile and give you a more attractive look.
If you would like more information on teeth whitening, please contact us or schedule an appointment for a consultation. You can also learn more about this topic by reading the Dear Doctor magazine article "Tooth Whitening Safety Tips: Are Bleaching Products Safe?"
By Kuhn Family Dentistry
October 31, 2017
With the advent of home whitening kits, you no longer have to go to the dentist to have your teeth whitened. DIY kits are relatively safe and effective, if you follow the directions carefully.
So, you might be thinking: why have a dentist whiten my teeth? Actually, there are good reasons why you might. Here are 4 of them.
We'll make sure your teeth are healthy first. Your teeth may need some attention first, such as treatment for dental disease, before we undertake whitening. We'll also determine why your teeth are stained, which could impact how they're whitened (more about that in a moment).
Our application could take less time and last longer. Bleaching agents in home kits make up less than 10% of volume, much weaker than the applications we use. While it often takes several applications at home to achieve the desired brightness, you may only need one or two sessions with us. Our stronger solution may also extend the "fade time" — when the whitening begins to diminish — than what you may encounter with home whitening.
We can be more precise achieving the right shade. There are different shades of teeth whiteness — what looks good for someone else might not look good for you. We have the training and expertise to achieve a color that's right for you. What's more, we also have techniques and equipment like UV lighting that enables us to color match more precisely than you can with a home kit.
Your DIY kit can't alter some forms of staining. Home kits bleach only the outermost layers of tooth enamel. That won't help, though, if your discoloration originates inside the tooth. This intrinsic staining requires procedures only a dentist can perform to bleach the tooth from the inside out.
Even if you'd still like to use a home kit we'll be happy to advise you on purchasing and application. It's also a good idea to have us check the staining first to see if a home kit will work at all. In the end, we share the same desire as you do: that your teeth are as healthy as they can be and bright as you want them to be.
If you would like more information on tooth whitening options, please contact us or schedule an appointment for a consultation. You can also learn more about this topic by reading the Dear Doctor magazine article "Tooth Whitening Safety Tips."